Pamper returns to the stage in epic fashion. The last time we played with Mike Dillon/billygoat show sold out. So get your tickets asap. Johnny is stoked that he's gonna share a bill with one of his bass idols Norwood Fisher of Fishbone fame. Also Marshall Strong will come and sit in with Pamper set. Wear your old school pamper/billygoat/Davey's/Hurricane t-shirt and get $5 off. Be nice to see everyone having a good time again and the music can't get any better.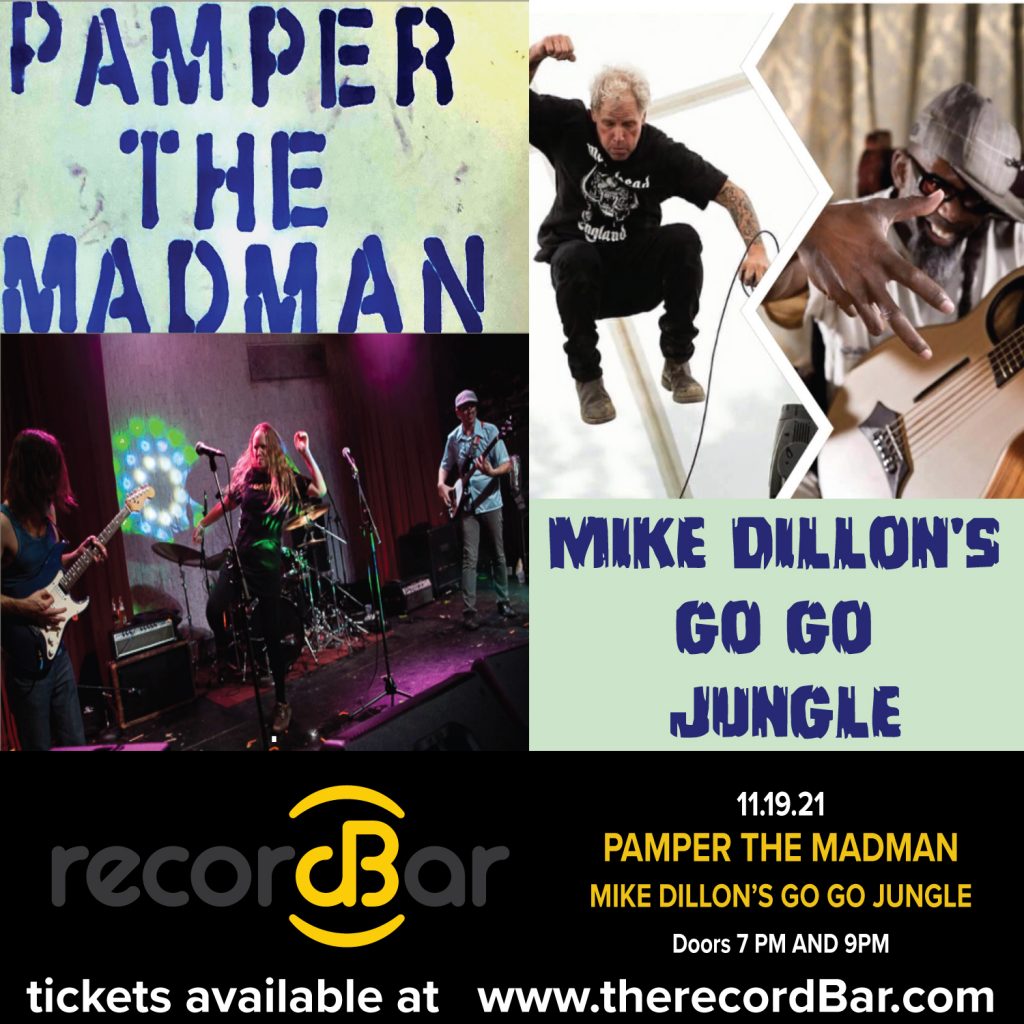 The band performed from early 90s til 98 when the lead singer Theresa stopped to start her family of three kids. The 2015 show was the first show that Pamper performed since marked the return of this amazing singer/songwriter. The shows since have been just as amazing as Theresa is truly a great performing artists that needed to be on the stage. The people in the audience both in the 90s and now will tell you how lucky they are to have witnessed these events. Goodtimes we've had and goodtimes await. The new album is still in works.
Theresa started playing music with Robbie Wagner in an acoustic duo called beatific smile. The sametime Robbie was starting a rock band with drummer Chris Fugitt and bassists Scott Hassler. They decided to see if the vocals would work in a rock context….. That lead to the start of Pamper the Madman which played it's first show in the front room at Davey's. Marshall Strong took over on bass after a few live shows. They released a demo cassette -Gosh Golly, Nothing, Muddle mind, Pork n Beans, and The wall is bleeding on it. This is very rare to find this cassette. By the time the full first album was released (CD) the band was wildly popular in the midwest. Johnny Hamil took over on bass in 95 and they recorded the second ep Muter. These two albums are widely sought after around the internet. The live shows are the main source of hearing these albums with some links below to some of it.
Chris Fugitt has been around the world as a touring musician with the band totimoshi as well as many other projects. he decided to return to kc around 2015. Chris is the founding member of the band.
Robbie Wager had relocated to South Korea and the distance keeps him from performing. Robbie and Johnny formed the band Eric after Pamper stoped playing and recorded and released 2 albums. Robbie happened to be in kc around 2015 which prompted the first show which was all the members of the band.
Johnny and Theresa were writing new material and Johnny luckily asked his friend what he was doing these days.. Chris Tady said well I'm just sitting on my couch smoking weed and playing my guitar. That's when the magic took off as Tady is very similar background to Robbie with his Rock n roll and metal guitar god type guitar playing. It was a perfect solution. We all thank Tady for making Pamper happen again.